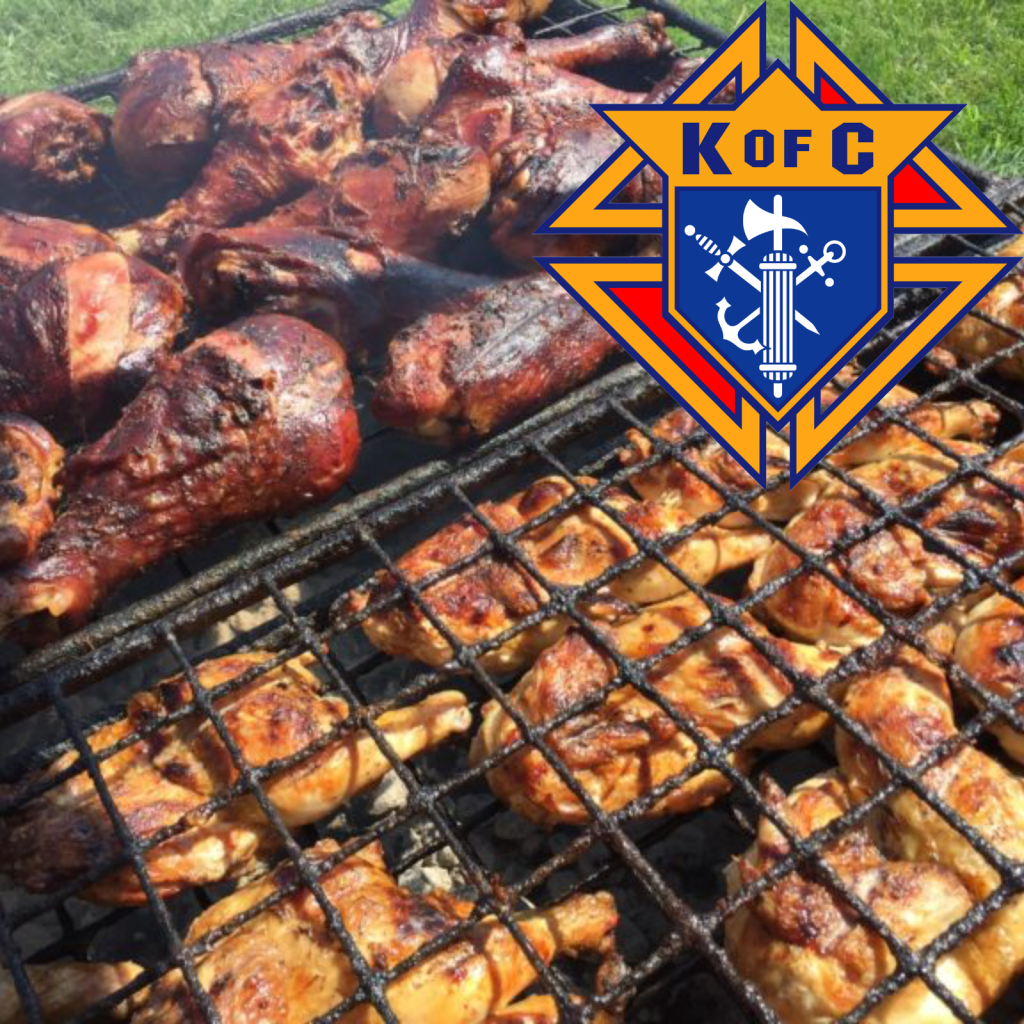 Our Council will hold its next Chicken BBQ fundraiser this day. The cost is $12.00 for a half chicken meal that includes baked beans, apple sauce, bag of chips, and a drink. Tickets will be sold after Masses TBA. Contact chairman Jeremy Stevens at 610-235-6352 for more information or to volunteer to help.
The Friday of the State Convention
NO BOOKS, JUST A TICKET & ALL CASH PRIZES! COAL – Chance Of A Lifetime Everyone will be mailed two tickets with your Dues Notice in December to buy or sell. You can return your completed tickets and payment with your dues (you may write one check), bring it to a meeting or do the following: Put it in envelope on the table in the room where Mass is livestreamed. Please enter through Deacon Jim's office (the old nursey.) All streamers are Brother Knights. Put the tix and money in it. If you need more tickets, contact Scott Harper at 717-201-1551.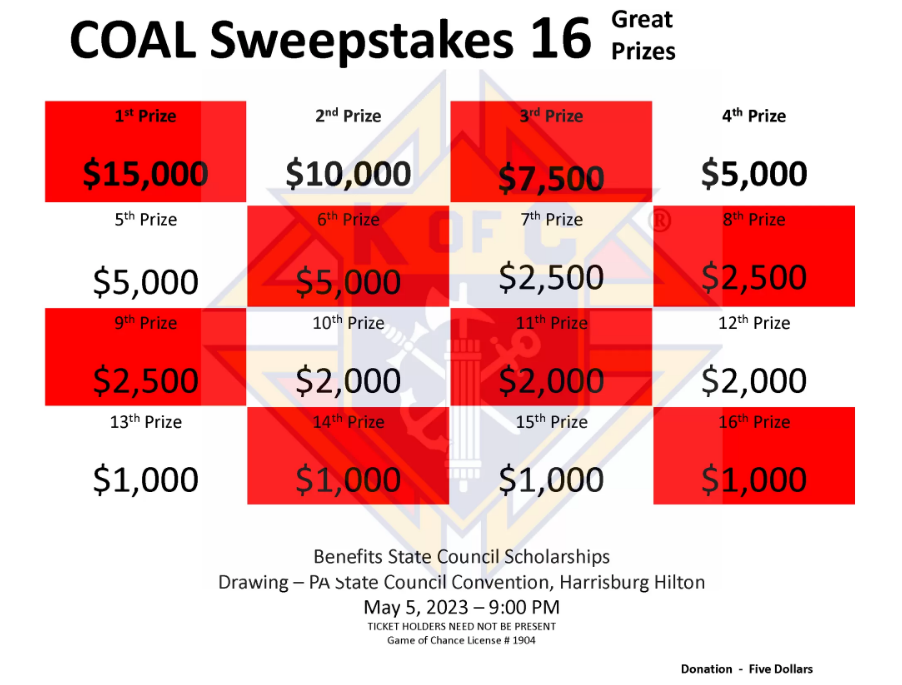 Once again our council will be participating in the PA Knights Football Frenzy Sweeps program. Each ticket sells for $10 and enters the buyer in one contest each week for the last 10 weeks of the NFL regular season. There are 25 winners each week. The odds of having a winning ticket is about 1 out of every 67 sold. Remember, the more tickets we sell, the more of the money that comes back to our council. Tickets will be available soon. Come to a meeting or contact Scott Harper at 201-1551 to receive your tickets. All completed ticket stubs and money is due by the Oct. 9 Council Meeting!
Come to a meeting or contact Scott Harper at 201-1551 to receive your tickets. All completed ticket stubs and money is due by the Oct. 9 Council Meeting!
If you bought a ticket, you can track the results at www.fundcrazr.com beginning after the last game on the week end of Oct. 27.
Saturday, January 27, 2023
Doors open at 6pm, races start at 7 pm
This is a fun-filled night of armchair horse racing and lots of laughs with friends and family. Bets can be placed on each race and there will also be 50/50 raffles, pull-off tickets, daily-double races and many other small games of chance.
Reserve seating is available for groups of 6 and larger. The kitchen will be open with free hot dogs and chips. There will also be other foods available for purchase but guests are welcomed to bring their own dishes to share with their group.
Beer, wine and soda are included in the donation which is still only $20!
Let the Knights bake your Holiday Pies! Our baker is Brother Knight Tim Weiser from Weiser's Market in Akron!
10″ pies – all flavors – Several varieties to choose from!
Prices: $10.00 each or 3 for $27.00. On the weekends of Oct. 28/29 and November 4/5, the Knights will be taking your pre-paid Holiday pie orders. All pies are 10″ and are made fresh. The pies can be frozen for up to 4 months so you may order for Christmas. Order deadline is Nov. 6th. Orders will be available for pick up at OMPH Church on Tuesday, Nov. 21st from 3:00 until 6:00 PM.
Contact Dave Huganbruch at (610) 750-4749 for more information and to volunteer to help.
Brothers, we need your help! Manning the table in the Narthex after the Masses on October 28 & 29 and November 4 & 5. On Distribution Day: Meet at 12:00 at Weiser's Market Lititz to load, then at 12:30 on Tuesday the 21st at the Hall for pizza or 1:45 at the Church.
The Share Our Success Diner program is one of easiest ways for your Council to earn money – eat a meal!!! That is, eat a meal at one of the two diners listed and when you pay your bill, just say you are part of the SOS for Knights of Columbus 4191, Ephrata. Then, 10% of your bill will be donated to our Council. The following are the participating diners, and they are both open 24 hours a day:
The Park City Diner, 884 Plaza Blvd, Lancaster, PA
The Knight and Day Diner, 3140 Lititz Pike, Lancaster, PA
If you have any questions, contact Scott Harper at 717-201-1551 or scotthaxp@yahoo.com.
Saturday, March 2nd, 2024
The Knights annual spaghetti dinner is a tradition at OMPH church. Be our guest and let us serve you all you can eat, spaghetti with meat sauce, salad, bread, desert and beverages. Other adult beverages also available for purchase and have with your meal.
Only $10.00 for Adults, $5.00 for Children!!
Brothers – we need your help:
General help Saturday from 2:00 PM to the end of the event.
Preparation and set up is Friday Evening at 4:00 PM.
Clean Up: If you are there, please stay until clean up is finished if you can.
Fresh bodies would be welcomed at 7:00 PM
To volunteer to help contact Matt Auker at 717-572-1160.