Marion Icon at OMPH
A Marion Icon, sponsored by our Supreme Council, will move through our district in January. It will be with our Council from January 14th through the 20th. There will be a Prayer Service at OMPH Church on Wednesday, January 15 at 7:00 PM.
Coffee Corner – January 19th
OMPH Parish Center – Third Sunday of the Month (usually).
Join the Knights for coffee, donuts, and good conversation after the 9:00 Mass every third Sunday of the month at the Father Jackson Parish Center of Our Mother of Perpetual Help Church. See the Council Calendar for specific dates. For more details or information please contact Bill Hydock at 336-6935.
March for Life – January 24
The annual March for Life in Washington DC will take place on Friday, January 24th. Come to a Council Meeting or check the OMPH Church bulletin to find out how you can attend to march to end the slaughter or the pre-born.
5th Sunday Rosary
Next Day March 29
Any time there is a fifth Sunday in a Month, the Knights of Columbus will lead the Rosary after the 11:00 Mass. Dates that folllow: 5/31/20
Baptism Roses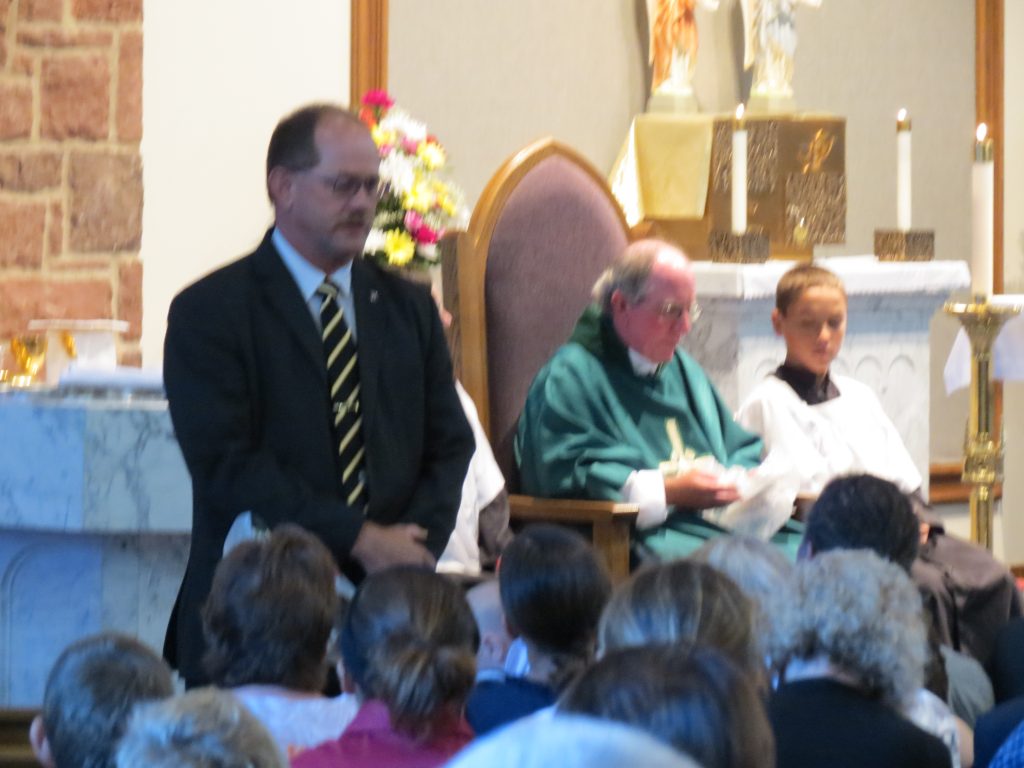 For over 30 years, our Council has been at almost every OMPH Baptism to celebrate to birth of the child and thank the mother for bringing the child into the world. We present the mother with a rose and a prayer card. It is a true celebration of life. If you would like to be a presenter, contact chairman Mark Janke at 717-575-7685.
Rosary Month – May & October
Every Saturday evening in May and October, before the 5:00 Mass, the Knights lead the Parish in praying the Rosary at 4:40. Please wear a coat and tie. To sign up, or for more information contact Program Director Jere Cassidy at 717-690-4755.
Blue Mass
Returning end of September 2020 at OMPH Church, 11:00 Mass
Prior to the Mass, participants will gather outside for the solemn processional into the Church, led by the Hamilton Celtic Pipe Band, and the Honor Guard from the Santa Maria Assembly of the Knights of Columbus. After the Mass, please join us in the gymnasium for some snacks and refreshments and to meet and greet fellow First Responders from throughout Lancaster County.

The Mass will be dedicated especially to the memory of all First Responders in the Commonwealth of Pennsylvania who gave their lives in the service of their community this year.

Please join us at the Blue Mass Ceremony to celebrate our time-honored professions.
40 Hours of Eucharistic Adoration
The Knights are asked to cover overnight times or any time they can for the 40 hours of Eucharistic Adoration at OMPH Church when the next dates are announced. Try to sign up for a slot that is open, particularly overnight, but feel free to be a second person in a time slot if you cannot make an open time. The signup sheet is in the Narthex.
Memorial Mass & Widows Breakfast
Sunday in October, 2020, 9:00 Mass, breakfast to follow.
Council 4191 will have its annual Memorial Mass at Our Mother of Perpetual Help Church on a Sunday in October at 9:00. The names of our deceased Brothers will be read and their Widows will be in attendance. The Santa Maria Honor Guard will also be present. Please make an effort to attend to demonstrate our support to our departed Brothers and their Widows. Following the Mass, a breakfast will be served at the Father Jackson Center, where the widows will be our honored guests. The cost is a free will donation. This is a very important event, so please make sure every Brother Knight you know is aware of it!

Brothers, we need your help! Set up for this event will be on Saturday, October 27th after the 5:00 Mass.
If you have any questions or need more information, please contact Program Director Jere Cassidy at 717-690-4755 or Mark Janke, PGK at 717-336-5796.